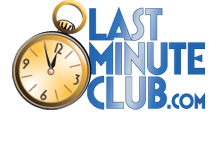 WHY JOIN THE LAST MINUTE CLUB?
You have hundreds if not thousands of choices to buy travel either directly on-line or through an agency. So what makes us so different?
You also have the opportunity to upgrade your membership to the premium category and reap even more benefits.
Take a few minutes and check out all the great savings!
JOIN NOW
CLASSIC MEMBERSHIP
You get all the discount travel scoops and you get to hear about them first. In fact, LastMinuteClub.com members get discounts not available to the general public. As a LMC member, you'll also get to earn travel points on all your regular purchases, which you can exchange for further discounts on your LMC vacations.
Last Minute Club Member Benefits include:
Guaranteed Lowest Price - LMC members are guaranteed the lowest price for all-inclusive vacations and cruises at time of booking.
EARN POINTS‡ WITH YOUR LAST MINUTE CLUB MASTERCARD® CREDIT CARD
The no-annual fee Last Minute Club MasterCard® credit card can rewards you with points for travel with Last Minute Club just by using your card for everyday eligible purchases‡.
Every time you use your Last Minute Club MBNA MasterCard® you're closer to your dream destination!
APPLY NOW!
CORPORATE
Special Benefits for Corporate Memberships
Are you a business or special interest group that enjoys traveling on a regular basis? Last Minute Club has a special group or employee benefit plan for companies that enlist 10 or more members. Attract and retain world-class talent with added benefits available with Last Minute Club Corporate Memberships!
CALL NOW 416-213-5203.
OR
Request more information.
Last Minute
Package Deals
Flights & Charters